- Tue Nov 20, 2012 9:57 am
#177508
So if your like me and you just bought a new Spec-V, you probly dont have the money for a new 300$ K&N/Injen intake sytem quite yet. So while your making payments and working your ass off to get spending money, here is a quick easy way to get the most out of your Stock Intake System while you gather funds to spoil your new baby.
SKILL LEVEL: 1 out of 10
Step 1. Buy a K&N Stock Air filter replacement (direct replacement for your stock filter in your Air Box) here is a link to buy it on amazon:
http://www.amazon.com/K-N-33-2409-Air-F ... automotive
Step 2. Replace Air Filter by simply squeezing both tabs and pulling upward on the Air Filter plastic cover. The filter simply comes right out the top. Be sure you put the new filter in the exact way the old one came out. Take note of which side the Air Filter bracket held the origional air filter, the new one will go in the same way. Pop the cover back on and your all done.
BEFORE YOU GO ANY FURTHER:
Your Stock Intake has a huge "Resonator" that is very restrictive and Pointless (in my opinion). Its function is to make the Stock Intake quieter by routing some of the air coming into your engine into your Resonator first. So if you are not interested in hearing your intake do its job, then you are done at Step 4 and can go on with your life, but if your like me and want the most power and sound out of your Stock Intake, then i suggest continuing with this process and completing this job. The following steps will show you an easy way to not only render the Resonator useless, but will also keep the resonator in place so that it still looks stock from the factory and un-tampered with.
Step 3. Remove the black plastic Nissan cover to gian access to the hoses that are attached to the Resonator. This can be achieved by removing the top 3 (10MM) bolts securing the cover to the engine.
Step 4. Disconnect the breather hose that is attatched to the Resonator by clamping the hose clamp with pleirs and pulling the hose off. There is also one more bolt holding down the Resonator just in front of the hose that you can unscrew now that you have room to work with the Cover off.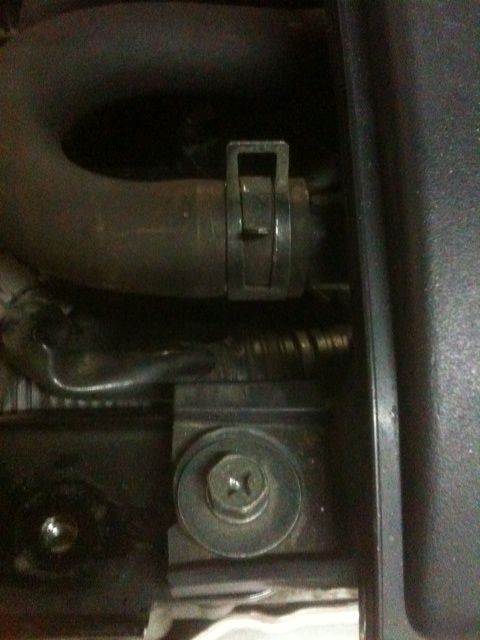 Step 5. Unscrew the metal clamp connecting the Resonator to the intake tube. (flat tip screw driver will work just fine)
Step 6. Pull out Resonator (pull straight up with a little force, nothing to crazy though it just pops off)
Step 7. Plug the hole of the intake tube with a Cap from an empty oil container (you can use a multitude of things i imagine, this was just the first thing i saw in my garage and it worked absolutely perfect).
Step 8. Re-assemble
!!ALL DONE!!
As simple as this was i actually did notice better throttle response. perhaps a "placebo effect", but i feel better about it none the less.
Pros: Better Air flow, improved throttle response
Cons: This will only work on the 2.5 motor. the 2.0 is set up different
Since any CAI for our car is 260$ or more, i feel that this is the most efficient and logical Mod you can do to improve our Stock Intake. It isnt much, but every little thing counts in my opinion and if you like tampering with your car like i do, this is an easy fun thing to do... Enjoy!
Last edited by
MetalMulisha619
on Fri Dec 14, 2012 8:00 am, edited 5 times in total.
Mods: K&N SRI Intake, Custom Exhaust, 8K HID's, Tweeds Brace Kit, 2J Racing pulley, Running Royal Purple 5w30 Motor Oil and Redline MT75W85 Tranny Oil (I/E/P)