- Mon Nov 12, 2012 2:03 pm
#176244
Hey everyone!
Thought I would start a showoff thread. Just got my '05 sentra a couple of months ago. She's a regular 1.8, though I do dream of owning an '04-06 spec-v after her. Anyways she started off stock but I have now bought new rims for her. Here are some pics of her stock:
So I thought she looked pretty boring being stock.. And I realized she had huge potential. So I began my long project of modding her. i figured rims would make a big impact at first so I decided to get her some new kicks.. Went and bought these: (minus the red ring.. maybe I should have gotten it.. naw I like the way she looks..)
While I was waiting for those to come in (they were coming from cali), I bought a new passenger visor (old one was broke) and new black floor mats.. Next I need to get a new black steering wheel cover.
Then the wheels came in. I loved them. Now I tried to take pics of them but for some reason THE FREAKIN SPOKES WOULDN'T SHOW UP IN THE PHOTOS. It looked like an ugly plain black wheel. I guess you'll have to take my word for it.. They look GREAT in person, and the car looks much better already. I took some pics up close and the spokes showed up more clearly. idk y they don't show when I take pics, might be my camera.. Also in the first pic there are scratches on the wheel. The tire store scratched them when putting it on so they are ordering me a new wheel.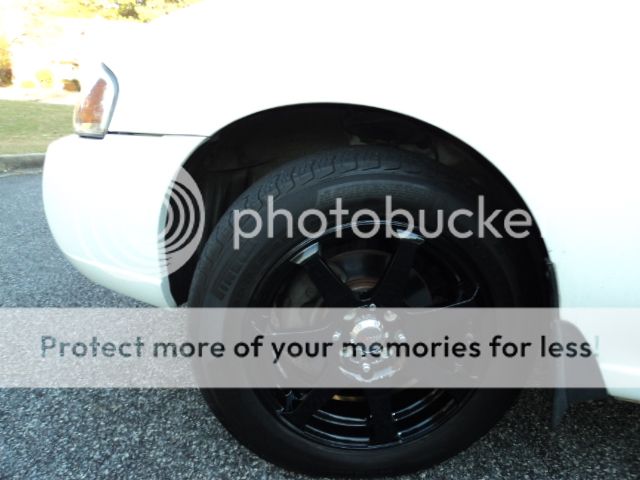 Now here's the photos where the spokes don't show and it looks like ugly ghetto wheels.. Idk why:
That's all I got so far. Next month I'm putting on some SE-R headlights and HID bulbs.. Then off to get tinted windows and a spoiler. After that I hope to get a stereo system. Nothing over the top, just your regular Kenwood reciever and two 6 1/2s and two 6x9s.
In my noob intro I said I was gonna do a WHOLE BUNCH to the car, but I'm just gonna keep all the mods minor. It is afterall JUST a 1.8 auto. After this one I want to own a REAL '05 Spec-V which I can really mod. Also this one has close to 170K. I have faith it'll prolly last till 250k but I don't want to put all my money in this one and she gives out. Our old Nissans have lasted an eternity but you never know (knock on wood)
It actually has 169,700 now..
Idk I guess we'll see how things go. I love this car and may end up putting money into it. Right now (as a student) I will just stick to the basics.
BTW, anyone have any idea how long on average the QG motor lasts? I know it varies but I just want to get a rough idea. 200k? 250k? 300k?
Thanks everyone and I will update as I add more stuff.
P.S. I had a complete list of the stuff I was originally planning on doing with the car and etc. on my noob intro here:
viewtopic.php?f=4&t=10488
Last edited by
WhiteLightning05
on Wed Jul 23, 2014 1:02 pm, edited 24 times in total.
RIP 7/19/2014
Mods: 6000K HID Headlights, Drag DR33 Black Rims, SE-R Headlights, Depo Taillights, 32% Tint, Kenwood Reciever, NISMO Catback, NISMO RSB, DC Sports CAI, 2j Studs, 2j Spacers, TEIN Coilovers, Blue Valve Cover
Extra Parts: 2j Control Arms, SpecV FSB, 2j 10mm ALK